In 1980, John Fellows started a control systems integration business, Controls Unlimited, Inc (CUI). During its first year of business, CUl designed and built electrical control panels from the Fellows' home. Eager to be a part of his father's new venture, and earn some extra money after school, John's 15 year old son, Joe Fellows, quickly learned to engrave control panel legend plates on an old manual pantograph engraving machine located in an upstairs bedroom. At that time Joe had no idea what a large part of his life engraving plastics and metals would become.
CUI grew quickly, and Joe attended college to study electrical engineering while working as an electrician, CAD operator, and then project manager for the family business. In 1987 the company purchased a computer controlled engraving machine to help keep pace with its growing need for legend plates, nameplates and signs. Joe was intrigued by the new machine and its new reverse engraving capabilities and quickly saw potential to sell engraved products to other companies requiring fast delivery and high quality products.
In 1988, Joe eagerly gave up his project management position for a newly created engraving manager position. In 1989 the engraving department's first brochure was produced promoting the company's 24" x 48" reverse engraved graphic overlays, 1-3 day delivery, and engraving direct from customer's CAD files.
By 1991, the engraving department had moved from its 250 sq.ft. production area into a 960 sq.ft. manufactured office building.
CUI registered the trademark "THE CUTTING EDGE" in 1992, and its nameplate and decal department began to market its products as a separate division under that name. That same year The Cutting Edge®published its 60 page Automation Industry Catalog. These changes allowed The Cutting Edge®to begin to serve many industrial OEMs that were previously confused by a control panel manufacturer selling industrial graphics and identification products.
By early 1994, The Cutting Edge®was in desperate need of elbow room and moved into 3700 sq.ft. of space at its current location in Perry, Ohio.
After working as a polymer chemist for 8 years, Joe's wife, Debi, was working as a safety and industrial hygiene consultant. While working as a consultant, she saw a lot of opportunities for new safety related products and customers for The Cutting Edge. Excited about The Cutting Edge's growth and opportunities, Joe's wife Debi joined the company full-time in sales and customer service in 1995. Debi's chemistry expertise also played a major role in allowing for the smooth additions of the company's chemical etching and photo-anodizing processes.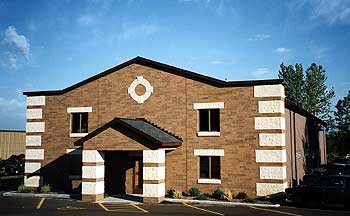 By 1997, The Cutting Edge®took over the entire building in which it was leasing space, expanding from 9,000 to 12,000 square feet. In October 1998, Joe and Debi Fellows purchased The Cutting Edge®from CUI.
Today, The Cutting Edge's 12,000 square foot facility in Perry, Ohio produces a wide range of products including engraved, printed, etched and photo-anodized nameplates, legend plates, overlays & signs, and printed overlays, decals, labels, tags & signs as well as applied and pre-spaced vinyl graphics.
Joe and Debi Fellows are actively involved in growing the company as President and Sales Manager and are supported by a competent and dedicated staff of Artisans, Graphic Artists, and Account Representatives.