Our primary markets include companies that require low quantity or one-of-a-kind products fast. Our typical prototype and short-run lead-time is 2-5 days however we frequently are able to serve customers with same day and next day service.
We are a small manufacturer, and as a result cross training throughout all areas of our organization is an on-going integral part of our company's philosophy. This philosophy allows us to quickly shift staffing to accommodate prototypes and short lead-time projects within any of our processes or departments.
Wherever possible, equipment is computer controlled or assisted with network access to sales, pre-production/art, and quality control. Most prototypes are machined, engraved, imaged, or printed directly from computer files, many times eliminating the time and costs associated with tooling, films and screens necessary for larger runs. The majority of our production computer files are modified versions of a customer's original CAD or graphics file that have been e-mailed to us or acquired through their FTP site. Upon receipt of a customer's file, an Account Representative will review the file on screen for revision level and customer instructions, and enter an order to update our schedules and produce work order(s) and shipping documents. Following the Account Representative's review, the customer's file is immediately available for production or art to begin manufacturing. Our art, production, quality control, & shipping schedules are updated live to maintain the high level of communication necessary to maintain our fast turn-around times.
Our entire production staff is college educated, primarily in graphic arts, in addition to their many accumulated years of experience.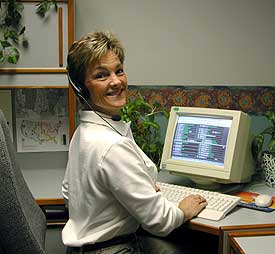 Our customer service staff consists of customer Service / Account Representatives with 50 years of combined printing and product identification industry experience. In addition, our sales manager, Debi Fellows, has a BS in chemistry, 15 years in polymer research and technical service, and has more than 15 years of experience in our industry.
Our President, Joe Fellows, has 10 years experience in electrical engineering, machine controls and project management in addition to his 25 years of product identification industry experience.
Although the company does not have dedicated engineering personal, our small size coupled with our wide range of knowledge and experience allow us to quickly tackle design and development projects. When technical information cannot be found in-house, multiple contacts are quickly identified and contacted in our network of technical advisors at material manufacturers, suppliers, customers, and partner companies.